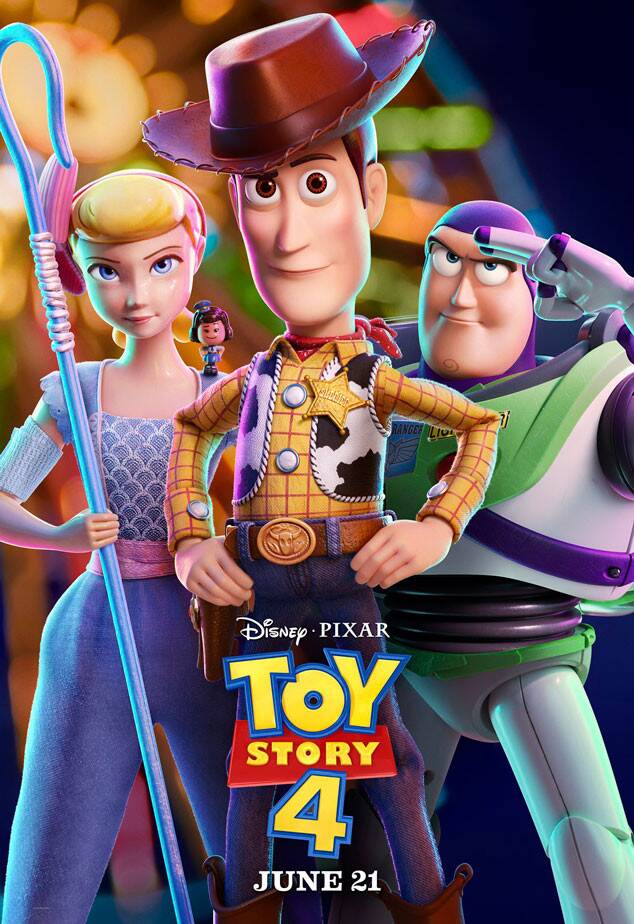 **Spoilers**
It's been a good nine years since
Toy Story's third installment had been released. A film that was once
universally regarded to be the definitive and beautifully bittersweet capstone
of the genre-defining Toy Story films. But, knowing Disney's habit of
capitalizing on its more nostalgic properties as of late, the release of a
fourth installment to this beloved franchise was, more or less, to be expected,
albeit with relative scepticism of its quality compared to its predecessors. With
a new director, Josh Cooley at the helm along with writers leaving the project
due to 'creative differences', and an almost 2-year delay of the film due to
other projects, such as The Incredibles 2, audiences were nervous that Toy
Story 4 was doomed to fall short of their expectations set by previous
installments. After all, what could a new installment possibly add after such a
final and near-perfect conclusion? Did we really need to know what happened to
Woody and Buzz next?
I had convinced myself for years that we probably didn't need another sequel. This is because as wonderfully endearing and timeless as the world and characters of Toy Story are, the near-perfect conclusion of Toy Story 3 didn't give much leeway into any significantly original ideas for a sequel outside of re-treading old ground. A noticeable example of this in Toy Story 4 can be seen through the re-surfacing of Woody's abandonment issues when his new owner, Bonnie leaves him in the closet, an obvious call-back to the main conflict of the first Toy Story. Other more welcome nostalgic call-backs include Randy Newman's "You've Got a Friend in Me" returning as the opening theme, as well as a villainous cat in the antiques shop which reminded me of Sid's dog.
This isn't to say Toy Story 3 doesn't offer new and clever ideas within its universe of animated children's toys however. The introduction of Forky (voiced by Tony Hale) for instance, raises some curious and bizarre existential questions about the metaphysical consciousness of the toys in the film's universe that I never thought I'd be contemplating about in a kid's film. A toy that Bonnie had fashioned herself out of a disposable fork and pipe cleaners, Forky appears to be confused and frightened of his own existence as a crudely made toy as he believes his only purpose is to be trash. Throughout the film, he goes to the most hilarious lengths possible to return to the blissful oblivion of the waste bin, only to have Woody constantly fish him out and force him to endure the gift of life he had been granted.
While the film does return to its thematic roots of the tried-and-tested formula of toys separated from their owners, Toy Story 4 goes to impressive lengths to expand its world of sentient toys and explore further themes about them that the film's predecessors did not. The reintroduction of Bo Peep (voiced by Annie Potts), along with the introduction of a myriad of colourful newcomers reminds us that the world of Toy Story is still brimming with unique and imaginative story possibilities. My personal favourite of these newcomers has to be the moustachioed Evel Knievel-inspired stunt cycle toy, Duke Caboom. A character who was brought to life by a wonderfully buffoonish performance by Keanu Reeves, which stands as a testament to how incredibly the man's acting has improved over the years since The Matrix. Other characters I particularly enjoyed included a pair of carnival plushes, Ducky and Bunny (voiced respectively by Keegan-Michael Key and Jordan Peele), a hyperactive and hilariously obnoxious duo that had me laughing and crying like a child every time they were on screen.
The film does go out of its way to expand its universe with a plethora of new characters. That being said, it came at the cost of classic recurring characters like Mr Potato-Head, Hamm, Rex and even Jessie being placed on the sideline this time around. This could be, in part, due to the unfortunate passing of Don Rickles (Mr Potato-Head) before he was able to record any dialogue for the film. As a result, the dialogue that Mr Potato-Head had consisted of 25 years of material from the first 3 films, video games, and other media. The obvious exceptions to this exclusion of older characters include the returning Bo Peep and Buzz Lightyear who is given a side-plot that is both hilarious and ties into a central theme of finding one's own inner voice. I was afraid that the directors had run out of ideas for Buzz, but this side-plot, along with his equally funny interactions with Ducky and Bunny had me pleasantly surprised.
The 'villain' of this movie takes the form of a creepy pull-string doll with a broken voice box, Gabby Gabby (voiced by Christina Hendricks). I use the term 'villain' very lightly, because unlike most previous recurring antagonists such as the ever-terrifying Sid, she's a far more tragic and sympathetic character who had never known love, and had spent her days in the confines of an old Antiques Store. Her goal was to simply take Woody's voice box so that she would be loved by a girl, only to be tossed aside and abandoned once again. This also ties back to the aforementioned theme of finding one's own inner voice. In the end, however she manages to find a new owner, a lost girl at the travelling carnival and finds happiness, a stark contrast to past villains getting their comeuppance.
Ultimately, Toy Story 4 was a film
that didn't necessarily need to exist, but I'm personally glad that it did. It
didn't have as much emotional weight or resonance as Toy Story 3, but to me it
hearkened back to the charm and hilarity that the first Toy Story had stolen my
heart with, if only for the fantastic character writing and comedic pacing. There's
no denying that it's overt emphasis of its messages and themes place it
slightly behind the rest of its predecessors. But personal opinions of how it
ranks with them aside, Toy Story 4 is still a charming and fun sequel that
plays to the strengths of what made the Toy Story films animated classics.